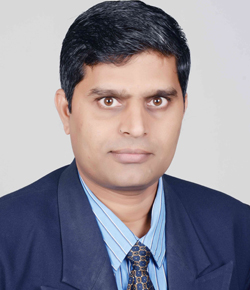 PERSONAL DETAILS
Name : DR. A.K DWIWEDI

Email : drakdindore@gmail.com

Websites : www.homoeoguru.in, www.sehatsurat.com

Contact No. : 09826042287 09424083040


EDUCATIONAL QUALIFICATIONS:
| | | |
| --- | --- | --- |
| | | YEAR |
| GRADUATION | B.H.M.S. | 1996 |
| POST-GRADUATION | M.D. [Hom] (Homoeopathic Repertory ) | 2006 |
| ADDITIONAL: | | |
| | | 2010 |
| | | |
| | | 2007 |
SHORT PROFILE
The young and missionary Dr Ashvini Kumar opened his own dream center - Advanced Homoeo Health Centre and Homeopathic Medical research Pvt. Ltd. Indore, MP He introduced the first ever concept of Insurance Scheme for Homoeopathic Treatment in the country earning applauds nationwide. Chikitsa Ratna Award by Dr JVG Krishnamurty, ex chief election commissioner of India, on October 6, 2004 in New Delhi. Having more than 17 years of teaching and professional experience.

LONG PROFILE
ACADEMIC ACHIEVEMENTS:
It is rightly said that excellence in a leader is not exhibited by his words but by his deeds and achievements, so is with Dr Dwivedi. The long list of prestigious awards and acclaims speak volumes of excellence in him.
These are his deeds that brought so many laurels to him, he has been conferred with Best Writers award of Arpan Samarpan magazine and was presented by Congress party spokesman and Chief of congress women cell Dr Girija Vyas and honorable Shri CS Chaddha, the then Vice Chancellor of Devi Ahilya Vishwa Vidyalaya.
He was also crowned as expert speaker by the Government homoeopathic Medical College, Bhopal through the principal of his college Dr S.K. Mishra. Dr Dwivedi is also bestowed with Chikitsa Seva Award by the then honorable chief Minister of State Bauble Gaur on September 6, 2005 in MGM medical college Indore.
But the greatest quality and supreme reward given to him none other than the Almighty Himself is a soft heart and a gentle touch with which Dr AK Dwivedi pleasantly ameliorates sufferings of the patients and gives smiles to the lips of scores who have virtually given up the hope to recover from incurable diseases.
In spite of all these achievements he doesn't have any ego and he is continuously trying for the development of Homoeopathic system in Madhya Pradesh for which he met with Honorable Governor Shri RamNaresh Yadav and Chief Minister Shri Shivraj Singh Chauhan.
PROFESSIONAL CONTRIBUTION
His contributions towards homoeopathy education, clinical management, academic guidance and social work as well as other extracurricular activities are going on side by side and that too unrelenting.
For his contribution towards Homoeopathy From the Year 2014 -2015 onwards Devi Ahilya University Indore is planning to give a Gold Medal Award to Homoeopathic Students of this University securing 1st Position in 4th BHMS examination of the University on the name Dr Ashvini Kumar Dwivedi's mother Late smt. Suraj kali Dwivedi Award on the request of Mrs. Saroj Dwivedi from the Vice Chancellor of University which was under consideration by University.
RESEARCH CONTRIBUTION
Dwivedi's innovative instinct clearly reflected in his research paper on Rheumatism, the most painful ailment faced by the humankind even in this era of modern healthcare and also in the lecture delivered on the continuous Medical education program conducted by government Homoeopathic Medical College Bhopal. Dr Dwivedi's devotion toward discipline and inclination towards punctuality and decency can well be gauged from the fact that he has been made in charge of Anti Ragging cell of SKRP Gujarati Homoeopathy Medical College. Dr Dwivedi's quest to develop the Homoeopathic system of treatment made him to even travel up to Singapore, Malaysia and Bankong for the betterment of homoeopathic medicine.

AFFILIATIONS:
Previously Dr Dwivedi was Chairman and member on the Board of Studies of Homoeopathy, Devi Ahilya Vishwa Vidyalaya, and Indore and also in the Panel of medical Inspectors/ Visitors of Central Council of Homoeopathy & Rani Durgavati University, Jabalpur. And Devi Ahilya University Indore. Dr. AK Dwivedi is Professor and Head of Department of Physiology & Biochemistry, SKRP Gujarati Homoeopathic Medical College, Hospital and Research Centre, Indore from December 5, 2001 till continuing and visiting Professor to the Institute of Management Studies, Indore (Devi Ahilya University), and teaching medical subjects to MBA (Hospital Administration) students.
As far as administrative and leadership aspect of his career is concerned, Dr Dwivedi's participatory contribution is praiseworthy. He has managed from first to fourth Prof. of BHMS exams conducted by Devi Ahilya University Indore as Superintendent and was appointed as paper setter as well as examiner by all the universities of Madhya Pradesh and some from outside for BHMS examinations too.He has also been a coordinator in National Homoeopathic Conference organized by SKRP Gujarati Homoeopathic Medical College Indore. & organizing secretary in the state level Homoeopathic Conference organized by the Homoeopathic medical association Indore.
BOOKS AUTHORISED:
Dr Dwivedi, on the other hand is the Editor of "Sehat Evam Surat" Hindi Monthly Medical & health magazine a well-read monthly medical magazine based on various treatment, causes, preventive measures on various diseases and lifestyle.
Besides, two books which are under construction also go to the credit of Dr Dwivedi Viz Clinical Materia Medica and Prevention and Different Mode of Treatment for various diseases, especially the latter one clearly exhibits his deep knowledge and command over usage of homoeopathic medicines.